Your dream home can have a lot to do with the city in which it's located. After all, the life you lead is about more than just the home you live in: it's about what's important to you and what you enjoy experiencing.
Below, we've compiled the "Top 5 Cities" in the United States across numerous categories. Did your hometown make the list? Check it out!
Top 5 Cities for Foodies
Food may just be one of the simplest pleasures in existence. These five cities boast a diverse array of eateries, offering foodies an endless culinary adventure.
San Francisco, California
Chicago, Illinois
New York, New York
Charleston, South Carolina
Houston, Texas

Top 5 Cities for Families
When looking for a place to raise a family, it's important to consider factors like the quality of the schools, crime rates, cost of living, access to healthcare, and family-friendly amenities. These cities rank among the top 5 for growing families in 2021.
Huntsville, Alabama
Ann Arbor, Michigan
Fayetteville, Arkansas
Boulder, Colorado
Madison, Wisconsin

Top 5 Cities for Job Opportunities
Looking to kickstart your career? Are job opportunities in your current city stale or in short supply? These towns have a bustling career scene with a lot of promise for those willing to put their best foot forward.
South Burlington, Vermont
Columbia, Maryland
Virginia Beach, Virginia
Salt Lake City, Utah
Boise, Idaho

Top 5 Cities for Dog Owners
While we can agree that, as Americans, we love our dogs to death, there are certain cities that take "dog-friendly" to the next level. If you consider yourself a "dog person," you and Fido will feel right at home in one of these cities.
Denver, Colorado
Orlando, Florida
Anaheim, California
Charlotte, North Carolina
Birmingham, Alabama

Top 5 Cities for Music Lovers
As Louis Armstrong once said, "Music is life itself." If you agree, then you may want to at least pay a visit to the top five towns on our list, where you'll find a lively music scene.
Austin, Texas
Nashville, Tennessee
Los Angeles, California
Memphis, Tennessee
Minneapolis, Minnesota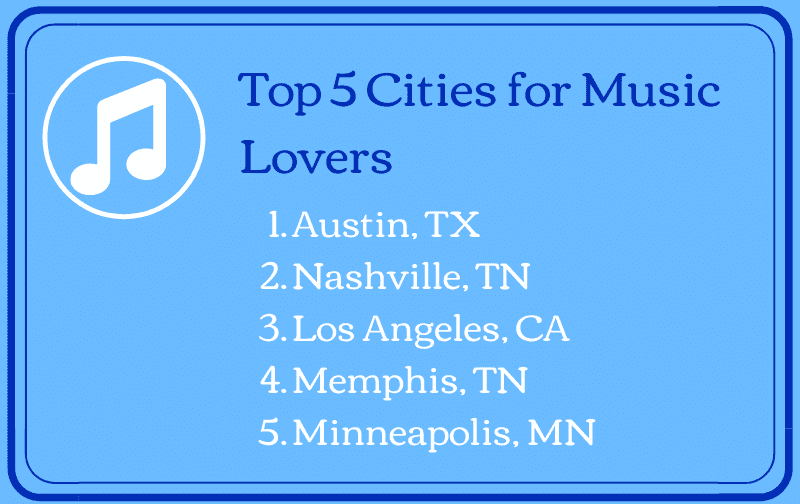 For more tips about moving, check out our blog! At True Friends Moving Company, we don't just have customers—we make friends for life: (615) 240-2811.