Get to Know Our Outstanding Movers
At True Friends Moving Company, we believe that our moving services are only as good as our moving crews. Our people—the True Friends—make up the backbone of our company and help us stand apart from the rest. We employ a large team of diverse individuals, of all whom are skilled movers and a commitment to our core principles of integrity, intellect, and hard work. Our team comprises all different types of individuals from all corners of the globe with a vast array of interests, from sports to art to music and more.
From our early days, we've built our company on athleticism and teamwork. We believe that a strong crew means better movers and better moving services. Our founder and our entire team has a true appreciation for the rewards of hard, honest work, camaraderie, and team-building.
Get to know some of the members of our team below and, when you need moving services, don't hesitate to give us a call at (615) 240-2811!
Chris Knowles - Founder/President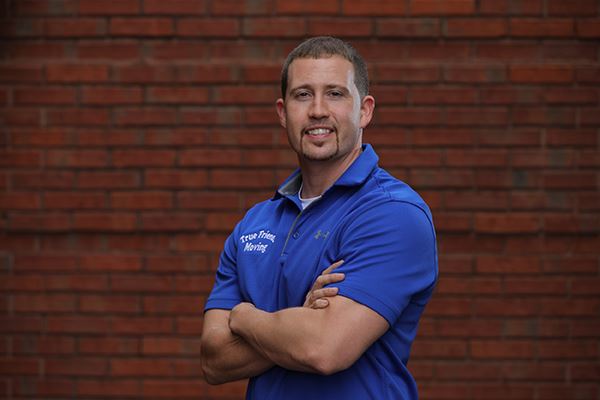 Originally from the state of Georgia, Chris got his start in the moving industry in high school when he began working part-time for a local moving company. He continued to work for the same moving company throughout college, all while working toward a Bachelor's Degree in Business Management. It was during this time that he first held the dream of one day owning his own company. After college, Chris accepted a job in corporate sales for a Fortune 500 Company. Though he was climbing the corporate ladder, Chris never forgot his dream of business ownership. Ultimately, after much soul-searching, he realized that his passions lied with building his own brand—not working toward someone else's dream. Thus, True Friends Moving Company was born. With equal parts hard work and commitment, the company has grown to be one of the area's top movers, recognized by Angie's List and others.
Chopper - In Memoriam - True Friend & Mascot
Chopper was an English-American Bulldog mix and the mascot of True Friends Moving Company. A loyal companion and true friend to all, Chopper lived a great life. He was always ready to greet everyone with a wag of his tail and was happy to come and go as he pleased through his very own doggie door. Around the office, Chopper got along with everyone.
Need moving services? Call True Friends Moving Company at

(615) 240-2811

to request a free, no-obligation quote today!